What could be greater than giving the gift of flight, or even treating yourself.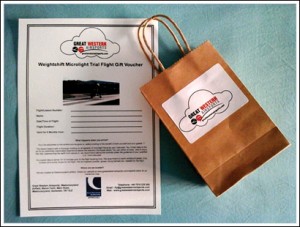 COVID-19 Voucher  Information Update 19th May 2020
All vouchers purchased between 1st May 2020 and 1st July 2020 will have a 12 month validity period as opposed to the standard 10 month validity. Once lockdown and social distancing requirements are relaxed, Great Western Airsports aims to resume normal flying activities with a few common sense precautions to ensure the safety of flight participants and company staff alike.
While we haven't received an exact date from government regarding possible resumption of flying activities, we have preparations in place for a possible restart of 1st July and we are taking flight booking starting again from 1st July on the proviso that governments enforced delays may require rescheduling.If you have any queries, please feel free to get in touch.
For a detailed description of all available Air Exerience Flight Gift Vouchers, please click here.
Air Experience Flight Gift Vouchers are available for both weightshift(flexwing) and 3-axis(fixed wing) microlight flights and are valid for 10 months from date of issue. Price includes preflight & safety briefing, 3rd party and passenger insurance, postage & packaging and temporary club membership.
A video of the flight is available at a cost of £25.00 and will be supplied on a SD CARD to take home on the day of the flight. Should you wish to purchase this option, please make your selection from the dropdown list below.
Gift Vouchers are posted out same day 1st class if your order is received before 3pm.
Choice of microlight aircraft type i.e. flexwing or fixed wing can be chosen at the time of booking your required flight date. Please note the following weight limits for each of the aircraft types:
Weightshift(flexwing) – 110kg
3-axis(fixed wing) – 90kg
Vouchers will be made out in the name of your chosen recipient and posted to an address provided anywhere in the U.K. & N.I.
Buy securely online below or contact us via our contact webpage to arrange alternative payment means.